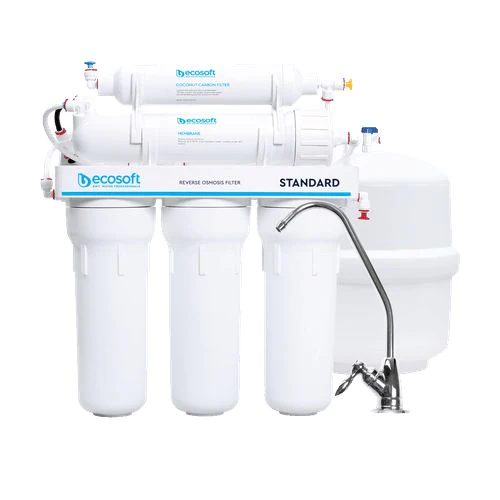 Ecosoft Standard 5 Stage RO System
Ecosoft Standard 5 Stage RO System delivers uncompromising quality, exceptional performance, and unmatched longevity.
With an easy under-sink installation, it provides you with an abundant supply of pure and great-tasting water. The comprehensive filtration technology effectively removes chlorine, THMs, fluoride, heavy metals, pesticides, and other toxins with ease.
Upon installation, you'll quickly notice a transformation in the taste and quality of the water you consume. Say no to unpleasant taste, smell and lurking presence of impurities in your tap water. With this system in place, save almost €600 on bottled water every year, making it a smart and eco-friendly choice for both your health and your wallet.
The Power of Multi Stage Filtration
Ecosoft 5 Stage RO System takes water through a meticulous journey, passing through five rigorous filtration stages, ultimately delivering pristine quality drinking water.
Fits Perfectly Under a Kitchen Sink
Ecosoft 5 Stage System is designed to fit seamlessly under most kitchen sinks making it a perfect solution for homes and businesses where space is at a premium. Tucked away neatly under a kitchen sink, it quietly works to deliver fresh & filtered water on demand.
A 8 litre storage tank is provided as standard that is generally suitable for a family of 4 and will fit under most sinks.
Our installation team is highly qualified and have several years of experience carrying out installations to the highest standards possible.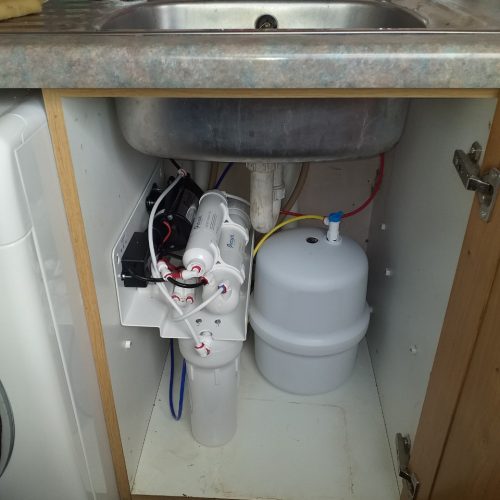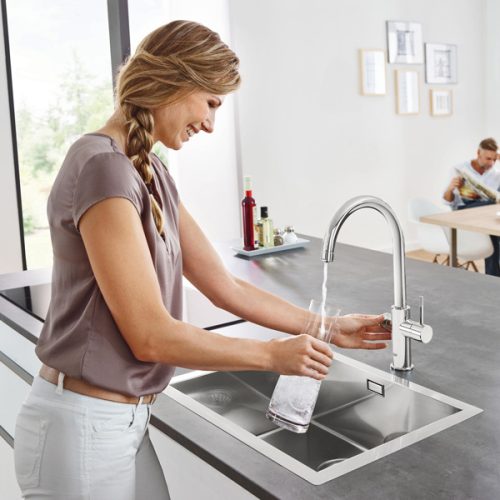 Ecosoft 5 Stage RO System comes with a standard tap which is usually installed beside your existing kitchen mixer tap to dispense filtered water.
For homeowners looking to add a style statement, Ecosoft 5 Stage RO system can be paired with a tri-flow taps. These tri-flow taps are stylish addition to any kitchen delivering mains cold, hot, and filtered water from a single tap without the need to drill additional holes on the kitchen sink.
| | |
| --- | --- |
| Flow Rate | 8L/hr (190 L/day) |
| Operating pressure for filter without pump | 3-6 bar |
| Operating pressure for filter with pump | 2-4 bar |
| Connections | ½" |
| Volume of Storage Tank | 12L (8L usable) |
| Unit Dimensions | 420 x 410 x 150 mm (H x W x D) |
Ready to embrace cleaner and greener living while saving money? Get in touch today!